Where and how to park a rental car in Munchen
In Munich, as well as in any other European city, it is possible to park your car in a fee-based manner and free of charge. Don't trust someone who says that it is impossible. Let's study several types of parkings and understand how to use them and how to pay for the parking. And also we'll study where it is possible to leave a car absolutely free of charge.

Parkings in the downtown.
Yes, it is the truth. It is almost unreal to park a car free of charge in the downtown. Therefore, if you plan to park in the center, you will have to pay for it. Parking in the center usually becomes free only at night. Therefore, always pay attention to the sign. The time for paid parking and the maximum time of possible location of a car are specified on the white side.
 The below-specified sign (on the left) informs about the paid parking from 9 a.m. till 6 p.m. After 6 p.m. it is possible to leave a car free of charge. The sign (on the right) is additionally shows that parking is allowed no more than for 2 hours from 9 a.m till 6 p.m. It is possible to park without restriction on time from 6 p.m. till 11 p.m. And from 11 p.m. till 9 a.m. this parking is free.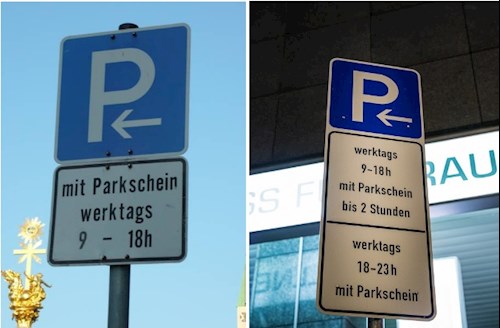 It is possible to pay for the parking in the automatic machine. It is absolutely standard procedure. Attentively read the instruction how to use the automatic machine. It is schematically drawn on each parking automatic machine what coins it is possible to use and what's the cost for an hour of parking. Usually it is made with the help of pictures. After purchasing money you'll receive the check. You need to put it under windshield of a car on a foreground. The printed side should be at the top.
Park and ride parking
It may sound strangely, but, in our opinion, such parkings as "be parked and go" are the most convenient for tourists who want to bypass sights of Munich on foot. Such parkings are near subway lines and assume the further movement of passenger on public transport. For example the cost of Parkplatz P & R Fröttmaning APCOA parking in the north of Munich is only 1 euro per day. It is rather simple to find such parkings. It is enough to write in Google search field such words as "p+r parking munchen" and you will see all parkings of this kind on the map. You will choose the parking depending on your direction and write down its address in advance. Also, Google gives an opportunity to look at estimates and reviews of car users which have already had experience of parking on this place.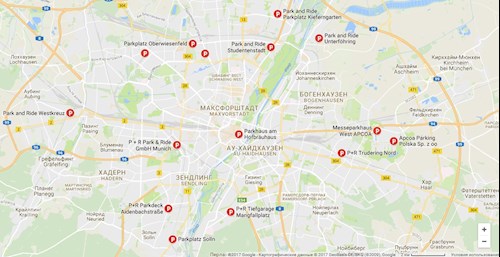 Free parkings in Munich
It doesn't make sense to look for the free parking in the downtown. Usually, such parkings are located near metro stations in remoteness from the center. It is approximately the same as P+R parking on remoteness, but it is free. By the way, it is possible to look for them near P+R parkings. On the other hand, if the cost of P+R parking is 1 euro a day whether there is a sense to go and look for the parking and to save 1 euro?
For those people who are not interested in saving money, but interested in the free car parking in Munich, we publish the short list of free parkings:
- Stephensonplatz is a small parking at the station of electric train (S-Bahn) "Perlach". Coordinates 48.093653, 11.631176
- Sachsenstrasse is about 10 minutes on foot to (U-Bahn) Candidplatz or Kolumbusplatz metro stations. Coordinates 48.118559, 11.567430
- Wallnerstrasse. The parking is 10-15 minute walk to Alyans-Arena stadium. Coordinates 48.209908, 11.633370
- Zillerstrasse. Partnachplatz station is in 5 minute walk. Coordinates 48.118943, 11.529307
- Normannenstrasse. "U-ban" - "Arabellapark" station is in 5 minute walk. Coordinates 48.154450, 11.620658
- Raheinstrasse. The free autoparking in front of Aldi shop. Absolutely nearby there are the station of electric train and Feldmoching subway. Coordinates 48.214093, 11.542025
- Reinmarplatz. It is a big free parking (about 300 places). it isn't limited in time. It is near Gern metro station. Coordinates 48.166747, 11.526469
- Maria-Theresia-Strasse. The nearest station of "U-ban" is "Max-Weber-Platz". Coordinates 48.137432, 11.596890